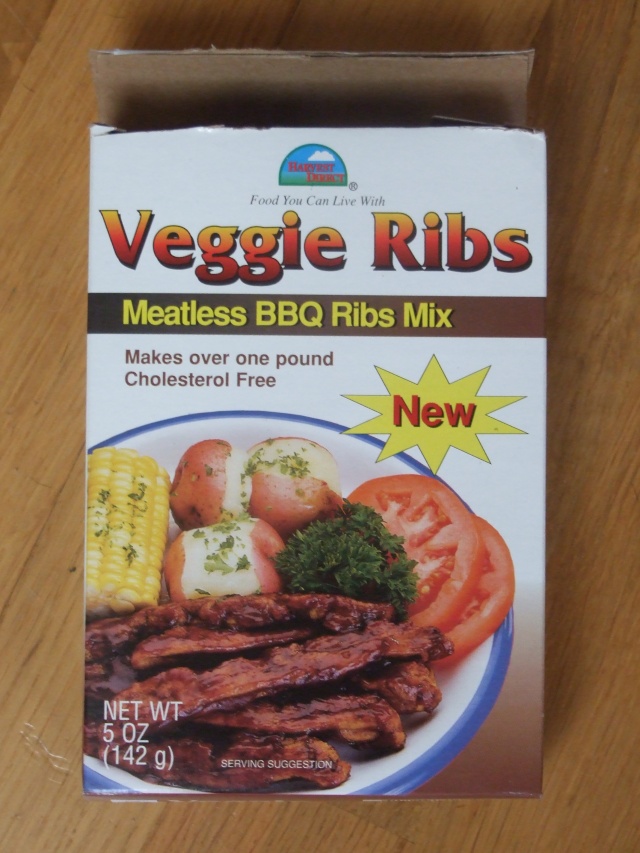 ingrédients:vital wheat gluten, nutritional yeast, wheat flour ,garlic powder, onion powder,paprika, dehydrated onion, vegetable broth base (maltodextrine, salt, corn&wheat protein, dehydrated vegetables, soy sauce powder, spices, autolyzed yeast extract)
you will need:
1/2cup of water
2tablespoon sesame tahini or reduced fat peanut butter
1 1/2 tbsp melted margarine or butter
1cup of favorite barbecue sauce.
Vous avez besoin de:
1/2 tasse d'eau
2cuillere a café de pate de sesame ou de beurre de cacahuete allegé
1 1/2 tasse de margarine fondue
1 tasse de votre sauce barbecue préférée
Mix: preheat oven to 400°F. pour veggie RIbs Mix into a medium mixing bowl.add water and mix with hands to form a soft, elastic dough (about 30sec)DO NOT OVER MIX. Shape dough into a 5*5 square and place back in bowl
Mix: préchauffer le four a 200°C. Versez veggie ribs dans un récipient. Ajouter l'eau et mélanger à la main pour former un pâte souple et élastique (environ 30sec). Ne pas mélanger plus!
couper la pâte en un carré de 5*5 et remettre dans le recipient.
Blend: Combine peanut butter (or sesame tahini) and melted margarine (or butter) and pour 1/2 over dough. Blend this into dough by poking finger deeply into dough about 20-30seconds. Turn dough over and repeat process with the rest of mix.
Blend: mélanger le beurre de cacahuète ou la crème de sesame avec la margarine fondue et versez la moitié sur la pate. faire rentrer dans la pate en enfonçant le doigt profondement dans la pâte pendant 20-30sec. retourner la pâte et répéter l'opération avec le reste du mélange
Bake:
Place dough on cutting surface and cut into 1/2 thick slice. Then cut slices again in half lengthwise.
Place ribs on a 10*15 lightly greased cookie sheet, leaving space between ribs. Bake for 10 minute and remove from oven. Bottoms should be browned. Turn ribs over, baste with barbecue sauce, and return to oven for 5-7 minutes. remove from oven, place ribs on a serving dish, basting with barbecue sauce as you go. serve and enjoy
Cuire: mettre la pâte sur une planche a découper et coupez en tranches fines d'1/2 cm. couper encore chaque tranche en deux dans la longueur.
mettre les ribs sur une plaque de cuisson recouverte de papier sulfurisé huilé de 10*15, en laissant de l'espace entre chaque rib.
cuire pendant 10min et retirer du four.les fonds devraient etre brunnis. retournez les ribs, badigeonner de sauce barbecue et remettre au four pour 5 à 7minutes. retirez du four et mettre les ribs sur un plat de service, remettre de la sauce barbeue autant que vous le souhaitez.
servez et savourez!
je suis pas sure du doigt dans la pate pendant 30seconde. mais le reste me semble cohérent.
j'ai bon?